High Precision Dosing For Smallest Gas Flows
The 59.0 UHV All-Metal Variable Leak Valve allows the precise control of very small gas flows (1· 10-10 mbar ls-1 to 500 mbar ls-1). With its full metal design it is ideal for gas dosing requirements in UHV and extreme UHV processes.
The special control function of the 59.0 guaranties a reproducible precise gas flow setting, enhancing process control capabilities. It also provides reliable, leak-tight closing over the whole life time, without any risk of sealing fatigue.
The full metal design – high grade SS valve body and gold plated SS membrane gate seal – gives the 59.0 also a high resistance against corrosive and aggressive gases.
Already installed in thousands of demanding applications under various process conditions, the 59.0 has proven its outstanding reliability. It has become the standard solution for variable leak valve in UHV and XHV applications.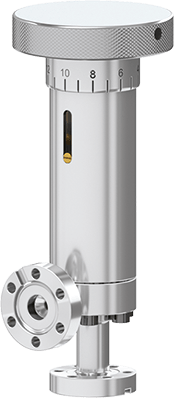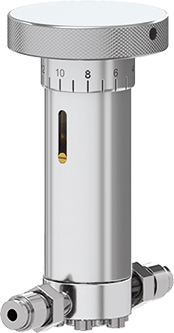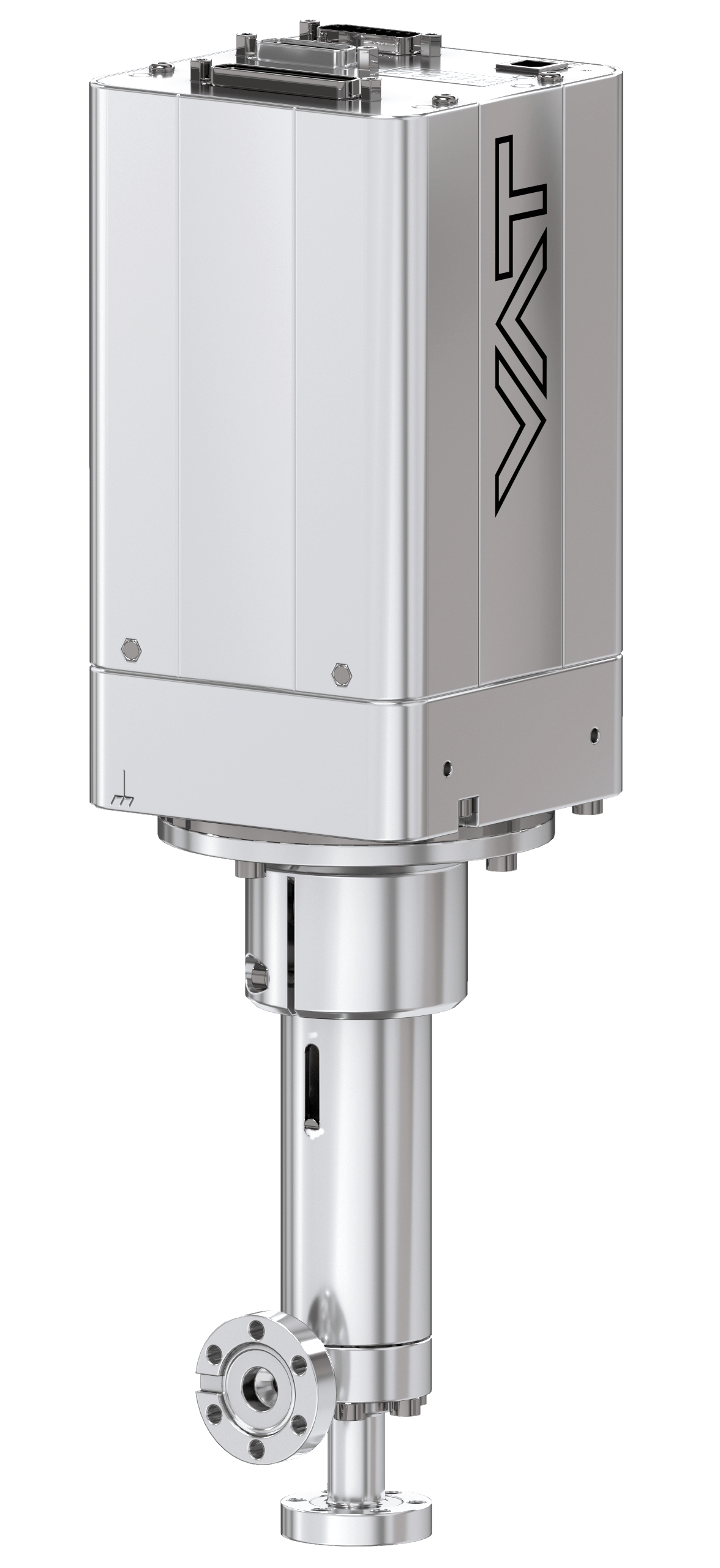 ---
The 59.0 is available in DN 16 mm (5/8") as angle and as inline version, in manual actuation or with integrated or detachable pressure controller with stepper motor. With the detachable controller the 59.0 can be backed-out at max. 300 °C (with the controller detached). Standard flange is CF-R fixed in place.
The diaphragm's "hard on hard" seal is designed for the full valve life time of 400 000 control cycles and 10 000 leak-tight closing cycles without needing any servicing although it is available as spare part and is easy replaceable.
---
Key features of the 59.0 UHV All-Metal Variable Leak Valve
Features:
High precision gas dosing for smallest gas flows
Precisely reproducible gas flow settings
Reliable life time leak-tight sealing
Resistant to corrosive and aggressive gases
Benefits:
Optimal pressure control at very small gas flows
Enhanced process controllability
High uptime
Technical data
Sizes
DN 16 (⅝")
Actuator
Manual
Handwheel
Integrated or detachable pressure controller with stepper motor
Body Material
Stainless Steel
Standard Flanges
CF-R
Sealing Technology
Diaphragm "hard on hard" sealing
Leak Rate
Valve Body
< 1 × 10-10 mbar ls-1
Valve Seat
< 1 × 10-10 mbar ls-1
Pressure Range
UHV to 10 bar (abs)
Differential Pressure
At Opening
≤ 10 bar
Dead Volume
Angle Valve:
Seat Side
Side Port
2.7 cm3
1.1 cm3
Inline Valve:
Seat Side
Side Port
0.98 cm3
1.01 cm3
Cycles until first Service
20 000
Bake-Out Temperature
Valve Body
≤ 300 °C
Manual Actuator
≤ 300 °C
Controller with Stepper Motor
≤ 50 °C
Heating and Cooling Rate
≤ 60 °C h-1
Material
Valve Body
AISI 660 (1.4943), AISI 316L (1.4404)
Diaphragm
AISI 301 (1.4310), gold-plated
Mounting Position
Any
Valve Position Indication
Visual (Mechanical)
Conductance (Molecular Flow)
0.05 ls-1
Adjustable Gas Flow
1 × 10-10 mbar ls-1 to 500 mbar ls-1
Weight
With Manual Actuator
0.94 kg / 2.07 lbs
With Controlled Stepper Motor
2.5 kg / 5.5 lbs
Specify standard product
Get to the product details to specify your requirements to get a quote or to get a specific CAD data download.