Zuverlässige Absperrung unter allen Bedingungen
Die 01.0 Mini-UHV-Schieber-Baureihe arbeitet mit der von VAT patentierten MONOVAT-Technologie, die speziell entwickelt wurde, um eine zuverlässige Tellerdichtung ohne Reibung zu gewährleisten. Bei der MONOVAT-Technologie wird die Dichtung an den Teller vulkanisiert, um eine zuverlässige und dauerhafte Abdichtung zu gewährleisten, in Verbindung mit geringer Partikelfreisetzung und reduzierter Ausgasung.
Der spezielle "Soft-Close"-Mechanismus des MONOVAT minimiert darüber hinaus mechanische Stöße des Schiebers. Bei herkömmlichen Ventillösungen können mechanische Stöße zu einer ungewünschten Partikelaktivierung im Vakuumsystem betragen.
Schmiermittelfreiheit, keine Ventilmechanik im Vakuum, eine Ausheiztemperatur bis zu 250 °C und spezielle Reinigungsmöglichkeiten sind weitere Elemente, die Risiken der Prozesskontamination vermeiden.
Durch ihren modularen Aufbau und ihre vielfältigen Gestaltungsmöglichkeiten lässt sich die Baureihe 01.0 - auch nach der Installation - an nahezu jede Anforderung anpassen und bietet zahlreiche Update-Möglichkeiten, z.B. in Form von unterschiedlichen Antrieben oder Tellern.
Bereits in tausenden von anspruchsvollen Anwendungen unter verschiedenen Prozessbedingungen installiert, hat die Baureihe 01.0 ihre herausragende Zuverlässigkeit bewiesen. Sie hat sich zum Standard für die UHV-Absperrung in Größen von DN 16 - 50 mm (5/8" - 2") entwickelt.
---
Der 01.0 Mini-UHV-Schieber ist mit manuellem und pneumatischem Antrieb, mit Steuerventil entweder als "On-Board"-Lösung oder zur externen Montage. Die Standardspannung des Steuerventils beträgt 24 VDC, andere Spannungen sind auf Anfrage erhältlich.
Die Ventilstellung wird mit einer optischen (mechanischen) Anzeige angezeigt. Standardoptionen für Flanschanschlüsse sind ISO-KF, CF-F. Kundenspezifische Flansche können integriert werden. Das Standard-Dichtungsmaterial ist FKM, aber andere Materialien sind auf Anfrage erhältlich.
Spezielle Versionen des 01.0 für die Gasanalyse bieten Bypass-Ventile und Blendenmodule, die für eine zuverlässige und festdefinierte Druckreduzierung kombiniert werden. Teller mit verschiedenen Öffnungsgrössen für integrierte Fenster und Folien sind ebenfalls eine Option.
---
Hauptmerkmale des 01.0 Mini-UHV-Schieber
Zuverlässiger, robuster, modularer Aufbau
MONOVAT-Technologie zur Vermeidung von Partikelfreisetzung
Schmiermittelfrei und ausheizbar bis zu 250°C
Geschweißter Metallbalg zur Abdichtung der Schiebedurchführung
Robustes Edelstahlgehäuse
Zuverlässige Leistung
Upgrade-Optionen
Geringe und einfache Wartung
Niedrige Betriebskosten
Modulares Design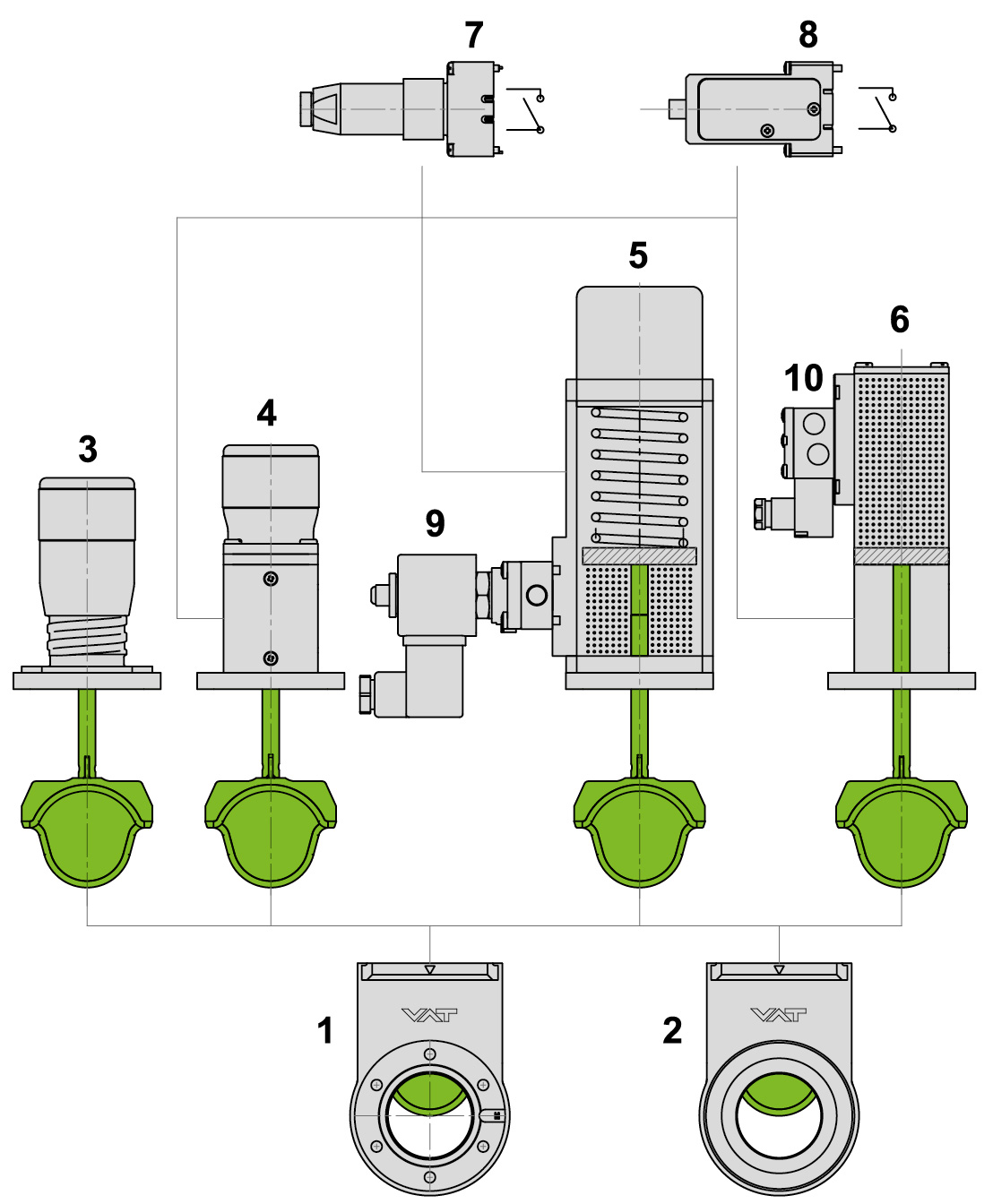 1
Ventilgehäuse mit CF-F-Flansch
2
Ventilgehäuse mit ISO-KF-Flansch
3
Manueller Antrieb
4
Handantrieb mit Lagemelder
5
Pneumatischer Antrieb: einfachwirkend mit Schließfeder (NC) oder einfachwirkend mit Öffnungsfeder (NO)
6
Pneumatischer Antrieb: doppeltwirkend, mechanisch verriegelt
7
Lagemelder bis 80 °C (Standard)
8
Lagemelder bis 200 °C (Option)
9
3/2-Wege Steuerventil
10

_

4/2-Wege Steuerventil
Technical data
Sizes
DN 16 (⅝"), DN 25 (1''), DN 40 (1½''), DN 50 (2'')
Actuator
Pneumatic
Single acting with closing spring (NC) or opening spring (NO),
or double acting
Manual
With turning handle
Body Material
Stainless Steel
Feedthrough
Bellows
Standard Flanges
ISO-KF, CF-F
Leak Rate
Valve Body
< 5 × 10-10 mbar ls-1
Valve Seat
< 1 × 10-9 mbar ls-1
Pressure Range
1 × 10-10 mbar to 2 bar (abs)
Differential Pressure
On the Gate
≤ 2 bar
At Opening
≤ 30 mbar
Cycles until first Service
50 000
Temperature
Valve Body
≤ 250 °C open / ≤ 200 °C closed
Pneumatic Actuator
≤ 200 °C
Solenoid Valve
≤ 50 °C
Position Indicator
≤ 80 °C
Manual Actuator
≤ 250 °C
Heating and Cooling Rate
≤ 50 °C h-1
Material
Valve Body
AISI 304 (1.4301), AISI 316L (1.4435)
Mechanism
AISI 304 (1.4301)
Bellows
AISI 316L (1.4435)
Seal
Bonnet
Metal
Gate
FKM (Viton®)
Mounting Position
Any
Solenoid Valve
Actuator with closing or opening spring
24 VDC, 9.0 W (others on request)
Actuator double acting
24 VDC, 5.4 W (others on request)
Position Indicator: Contact Rating
Voltage
≤ 250 VAC
≤ 50 VDC
Current
≤ 5 A
≤ 3 A
Valve Position Indication
Visual (Mechanical)
Specify standard product
Get to the product details to specify your requirements to get a quote or to get a specific CAD data download.