Reliable Isolation Under All Conditions
The 01.0 Mini UHV Gate Valve series works with VAT's patented MONOVAT technology which is specially developed to provide reliable gate sealing without any friction. With the MONOVAT technology the seal is vulcanized to the gate to provide a more reliable and durable sealing combined with superior performance in terms of low particle generation and outgassing.
The special soft closing mechanism of the MONOVAT minimizes potential shock effects to the process caused by a fast moving gate touching the valve body.
Free of lubricants, no valve mechanism in vacuum, a bake out temperature up to 250 °C and special cleaning options eliminate risks of process contamination.
With its modular design and its various design options, the 01.0 series can be tailored to nearly every requirement - even after installation - giving numerous update options, e.g. in different actuation or gates.
Already installed in thousands of demanding applications under various process conditions, the 01.0 series has proven its outstanding reliability. It has become the standard for UHV isolation in sizes from DN 16 – 50 mm (5/8" – 2").
---
The 01.0 Mini UHV Gate Valve is available in manual and pneumatic versions with solenoid valves either as an onboard solution or for external mounting. The solenoid valve's standard voltage is 24 V DC but other voltages are available on request.
The valve position is indicated with a visual (mechanical) indicator. Standard options for flanges connectors are ISO-KF, CF-F. Customer specific flanges can be integrated.
The standard sealing material is FKM but other materials are available on request.
Special versions of the 01.0 for gas analysis provide bypass valves and orifice modules which are combined for a reliable and fixed pressure reduction. Window gates are also an option.
---
Key Features of the 01.0 Mini UHV Gate Valve
Reliable, robust, modular design
MONOVAT technology to avoid particle generation
Free of lubricants and bakeable up to 250°C
Welded metal bellow sealing of feedthrough
Robust stainless steel housing
Reliable performance
Upgrade options
Low and easy maintenance
Low cost of ownership
Modular Design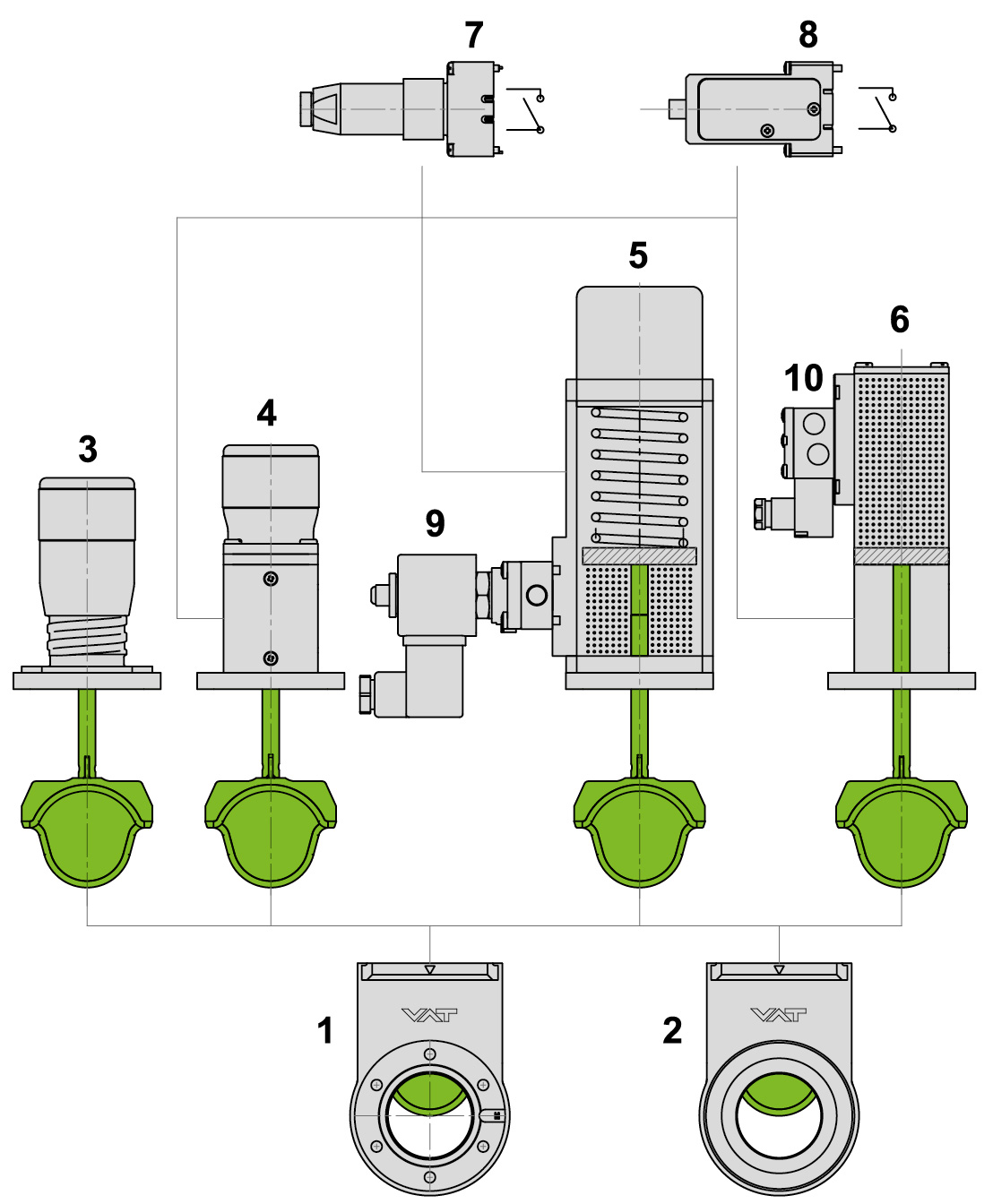 1
Valve body with CF-F flange
2
Valve body with ISO-KF flange
3
Manual actuator
4
Manual actuator with position indicator
5
Pneumatic actuator: single acting with closing spring (NC) or
single acting with opening spring (NO)
6
Pneumatic actuator: double acting, mechanically locked
7
Position indicator for 80 °C (standard)
8
Position indicator for 200 °C (option)
9
3/2-way solenoid valve
10

_

4/2-way solenoid valve
Technical data
Sizes
DN 16 (⅝"), DN 25 (1''), DN 40 (1½''), DN 50 (2'')
Actuator
Pneumatic
Single acting with closing spring (NC) or opening spring (NO),
or double acting
Manual
With turning handle
Body Material
Stainless Steel
Feedthrough
Bellows
Standard Flanges
ISO-KF, CF-F
Leak Rate
Valve Body
< 5 × 10-10 mbar ls-1
Valve Seat
< 1 × 10-9 mbar ls-1
Pressure Range
1 × 10-10 mbar to 2 bar (abs)
Differential Pressure
On the Gate
≤ 2 bar
At Opening
≤ 30 mbar
Cycles until first Service
50 000
Temperature
Valve Body
≤ 250 °C open / ≤ 200 °C closed
Pneumatic Actuator
≤ 200 °C
Solenoid Valve
≤ 50 °C
Position Indicator
≤ 80 °C
Manual Actuator
≤ 250 °C
Heating and Cooling Rate
≤ 50 °C h-1
Material
Valve Body
AISI 304 (1.4301), AISI 316L (1.4435)
Mechanism
AISI 304 (1.4301)
Bellows
AISI 316L (1.4435)
Seal
Bonnet
Metal
Gate
FKM (Viton®)
Mounting Position
Any
Solenoid Valve
Actuator with closing or opening spring
24 VDC, 9.0 W (others on request)
Actuator double acting
24 VDC, 5.4 W (others on request)
Position Indicator: Contact Rating
Voltage
≤ 250 VAC
≤ 50 VDC
Current
≤ 5 A
≤ 3 A
Valve Position Indication
Visual (Mechanical)
Specify standard product
Get to the product details to specify your requirements to get a quote or to get a specific CAD data download.