For Reliable Operation under Demanding Conditions
High proportions of by-products in the gas flow can lead to valve malfunctions as well as unplanned maintenance work due to the formation of deposits. The 09.1 HV Gate Valve with Wedge Design prevents this. Thanks to its special wedge design with self-cleaning function, it closes and opens reliably even if there are heavy deposits on the valve seat. Due to the wedge-shaped design of the gate, possible deposits are specifically pushed off the valve seat or the gate seal to always guarantee a reliable sealing.
The 09.1 HV gate valve is fully functional at up to 1 bar differential pressure.
Already installed in thousands of demanding applications under various process conditions, the 09.1 HV gate valve with wedge design has proven its outstanding reliability. Especially in sub-fab applications, it has become the standard solution for vacuum pump isolation. Thanks to a wide range of design options, the gate valve can be easily integrated into any application.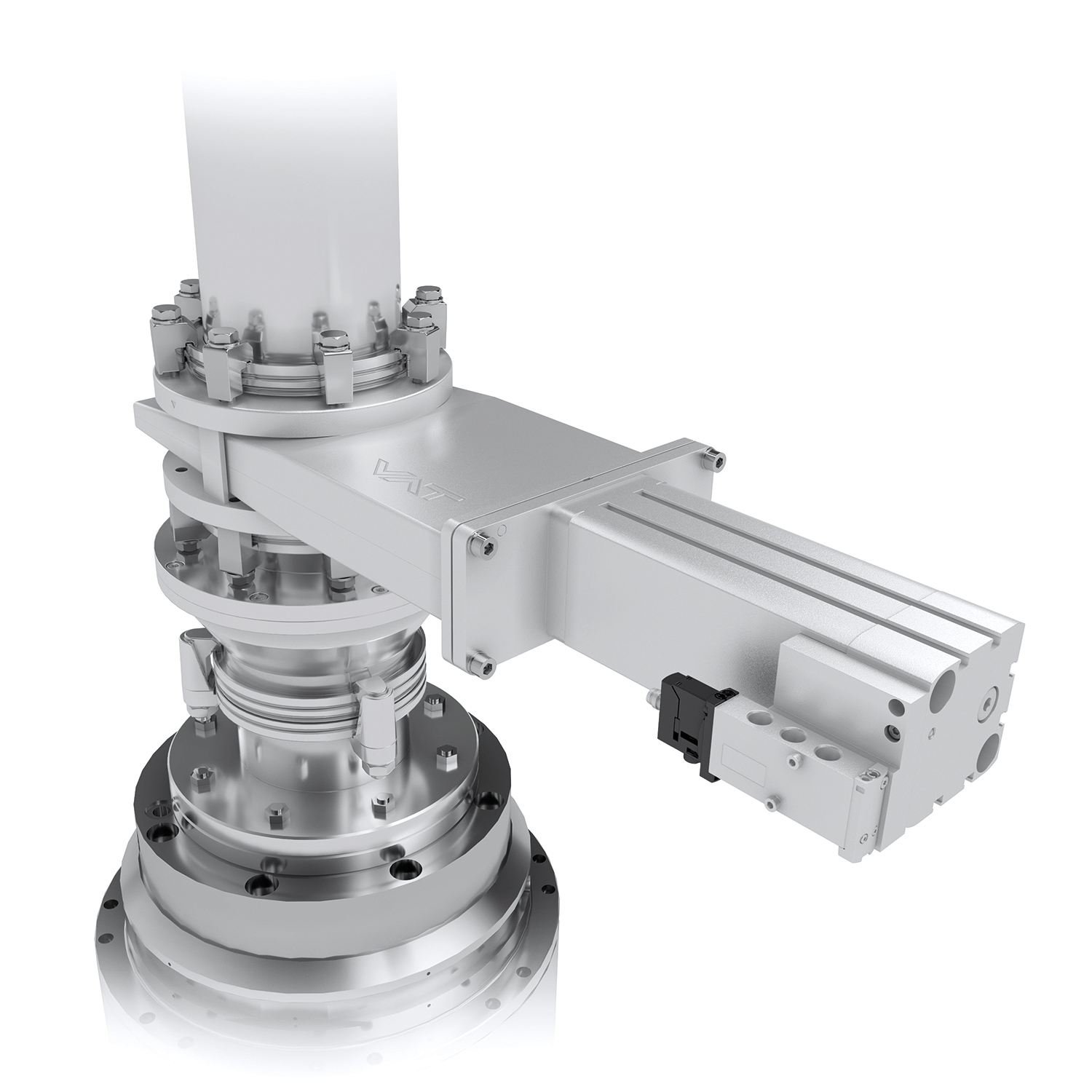 ---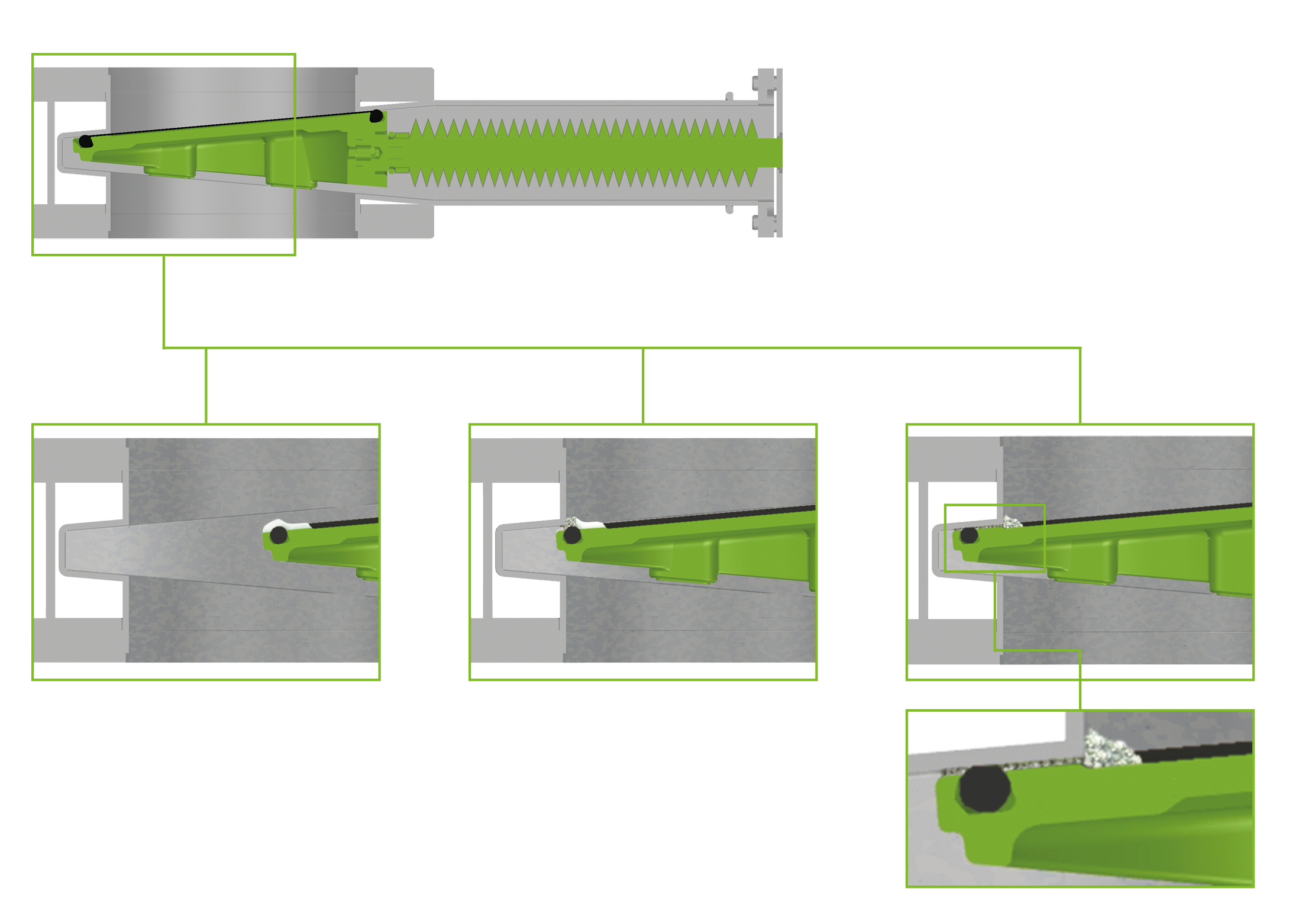 The 09.1 HV gate valve with wedge design is available in manual and pneumatic versions. The standard voltage of the control valve is 24 VDC. For flange connections, customer-specific flanges are possible in addition to ISOKF, ISO-F, CF-F, ASA-LP or JIS. The standard O-ring material is FKM, but other materials are available upon request. In addition, the integration of a soft-pump function is an option as well as providing additional access points for e.g. measuring instruments.
---
Key features of the 09.1 HV Gate Valve with Wedge Design
Self-cleaning function due to wedge design
Valve opening possible at differential pressure of up to 1 bar
Flexible configuration options for a wide range of applications
Excellent reliability
Extended maintenance cycle
Low operating costs
Sizes
DN 50 (2"), DN 63 (2½''), DN 80 (3"), DN 100 (4"), DN 160 (6"), DN 200 (8")
Actuator
Pneumatic
Double acting
Manual
With crank handle
Body Material
Stainless Steel
Feedthrough
Bellows
Standard Flanges
ISO-KF, ISO-F, CF-F, ASA-LP, JIS
Leak Rate
Valve Body
< 1 × 10-9 mbar ls-1
Valve Seat
< 1 × 10-7 mbar ls-1
Pressure Range
1 × 10-8 mbar to 1.2 bar (abs)
Differential Pressure
At Gate
≤ 1.2 bar
At Opening
≤ 1 bar
Cycles until first Service
5000
Temperature
Valve Body
≤ 180 °C
Actuator
≤ 100 °C
Solenoid Valve
≤ 50 °C
Position Indicator
≤ 70 °C
Material
Valve Body, Gate
AISI 304 (1.4301)
Bellows
AISI 633 (AM350)
Seal
Bonnet, Gate
FKM (Fluoroelastomer)
Optional: FFKM
Mounting Position
Any
Solenoid Valve
24 VAC/DC, 1 W
Position Indicator: Contact Rating

Voltage
Current
Power

24 VAC/DC
≤ 0.5 A
max. 10 W
Specify standard product
Get to the product details to specify your requirements to get a quote or to get a specific CAD data download.