Reliable Isolation with Uniform Gate Compression
The 04.3 Transfer Valve with L-Motion technology is particularly suited to corrosive processes such as etch or CVD. The L-Motion technology delivers L-motion of the gate by a single-shaft pneumatic actuator. In this L-motion the gate is moved vertically into close position without any contact to the valve body and in the final movement it is pushed horizontally to the gate seat, with the seal touching the gate seat at the same time at exactly the same pressure. Not only does this avoid any friction and with it potential particle generation, it also minimizes seal wear.
To minimize particle generation and activation further, the gates are fitted with vulcanized seals. This is a highly reliable and more durable sealing solution then a standard O-ring sealing, although standard O-ring sealing is available as an option. The shaft feedthrough is sealed with highly durable metal welded bellows.
To ensure the same sealing level over the entire length of the gate, the gate is fitted with a special compression bar. The bar guaranties an even distribution of the sealing pressure in every area of the gate.
In case of power failure, the 04.3 can be pneumatically locked in close position.
The 04.3 Transfer Valve with L-Motion are designed for extended maintenance-free operation (up to ≤ 3 million cycles until first service).
Already installed in hundreds of demanding applications in various semiconductor production processes, the 04.3 series haven proven their outstanding reliability. With a robust design as well as reduced and easy maintenance, the 04.3 series convinces in all aspects.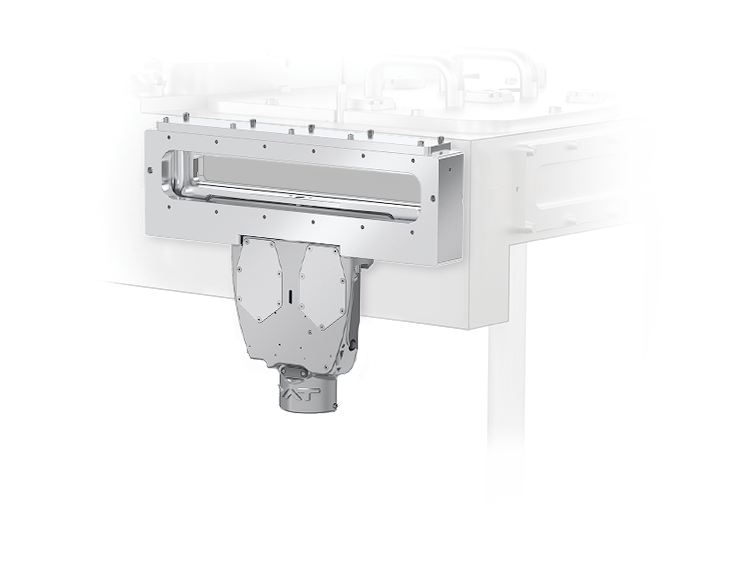 ---



The 04.3 Transfer Valve with L-Motion are always tailored to customer specifications. However, there are four basic predefined designs: two valve types with bonnet flange that have different rear side openings and two insert types with inside or outside chamber valve seat.
Valve body material options are aluminum, hard anodized or nickel-plated and stainless steel. Gate and bonnet seals are in FKM or FFKM with other sealing materials available on request.
Key features of the
04.3 HV Transfer Valve with L-MOTION
Reliable operation in corrosive process conditions
L-Motion technology to avoid particle generation and activation
Compression bar for even gate pressure distribution
Bellows sealed shaft feedthrough
Extended maintenance free-cycle
Smooth, low-shock movement
High uptime / unrestricted performance
Fast operation
Low cost of operations
Technical data
Sizes
50 x 336 mm to 80 x 500 mm (1.97" x 13.23" to 3.15" x 19.69")
Actuator
Pneumatic
Double acting with position indicator
Body Material
Blank or Hard anodized Aluminum
Feedthrough
Bellows
Leak Rate
Varies depending on material
Pressure Range
Blank or nickel-prated aluminium
1 × 10-9 mbar to 1.1 bar (abs)
Hard anodized aluminium
1 × 10-6 mbar to 1.1 bar (abs)
Differential Pressure
On the Gate
1.1 bar
At Opening
≤ 30 mbar
Cycles until first Service
≥ 3 Million
Temperature
Valve Body, Gate
≤ 120 °C
Actuator
≤ 80 °C
Heating and Cooling Rate
≤ 40 °C h-1
Material
Valve Body, Gate, Service Cover
EN AW-5083 (3.3547), EN AW-6061 (3.3211), EN AW-6082 (3.2315)
Bellows end pieces, shaft
AISI 316L (1.4404)
Bellows
AISI 633 (AM 350)
Seal
Gate, Service Cover
FKM (Viton®)
Mounting Position
Actuator up or down
Impulse Solenoid Valve
24 VDC, 2.5 W (others on request)
Position Indicator: Contact Rating
Voltage
≤ 50 V AC/DC
Current
≤ 0.1 A
≤ 5 mA
Connection
9 pin subminiature D
Compressed Air Connection
Quick connector O.D. 6 mm
Specify standard product
Get to the product details to specify your requirements to get a quote or to get a specific CAD data download.