Reliable High-Speed Protection
The main requirement of a modern shut-off valve is its reliable and fast acting emergency isolation on any backflow event. The 25.7 is designed to provide a sensitive, high-speed isolation function that reliably prevents the risk of backflow into a process chamber or pipe system.
The 25.7 HV Quick Shut-Off Valve is flow controlled. The direct operating design without any subsystem (sensor and actuator) provides high-speed isolation with low complexity and low failure risk. With less than 10 milliseconds from the initial backflow impulse to full isolation the 25.7 leads its class.
As a safety solution, a shut-off valve should ideally add no conductance barrier to the system. The 25.7's special flow-optimized design sets the standard in this regard, delivering a perfect balance between high conductance and fast isolation.
When used in processes with by-products in the gas stream, e.g. foreline applications, any accumulation of contamination on a quick shut-off valve reduces conductance and can negatively influence its isolation capabilities. This process related challenge is adressed by a special surface coating which minimizes accumulation for most by-products significantly. An additional heating option is available to avoid process gas condensation at the valve surface.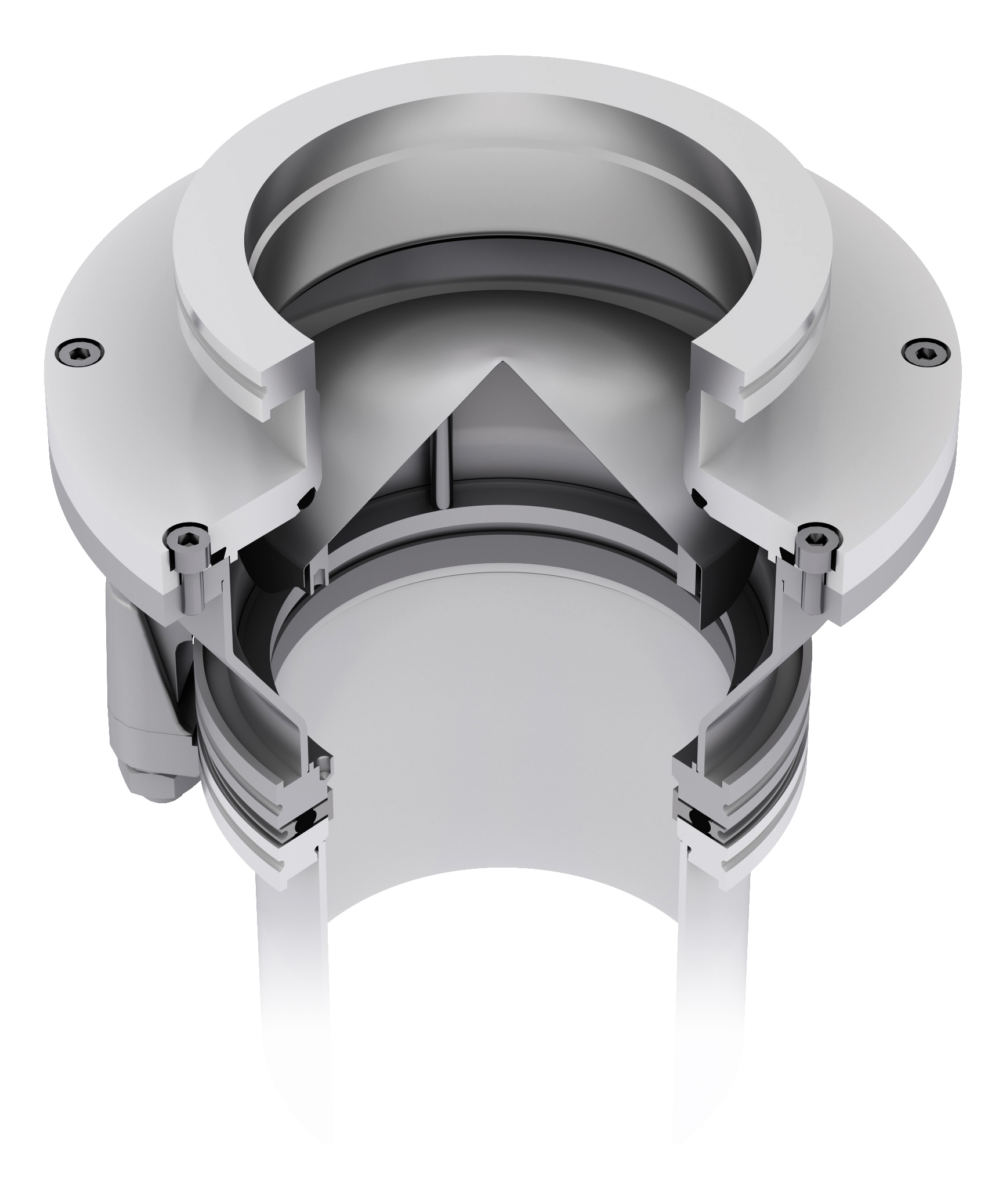 ---
emergency closure in case of backflow
The 25.7 HV Quick Shut-Off Valve is available in sizes from DN 50 - 160mm (2" - 6"). The valve body is made of stainless steel. The standard flange is ISO-K for DN63 to DN160 (2½ " - 6") and ISO-KF for DN50 (2").
For applications with very aggressive process gases, FFKM seals are available.
---
Key features of the 25.7 HV Quick Shut-Off Valve
Flow-controlled movement
Outstandingly fast reaction time
Optimized conductance
Special surface coating to minimize by-product contamination
High level of protection
Extended lifetime
Easy installation
Low cost of ownership
Technical data
Sizes
DN 100 (4")
Body Material
Stainless Steel
Standard Flanges
ISO-K
Leak Rate
Valve Body
< 1 × 10-9 mbar ls-1
Valve Seat
< 1 × 10-6 mbar ls-1
Pressure Range
Vacuum to 1.2 bar (abs)
Differential Pressure
On the Gate
≤ 1 bar
Conductance (laminar flow)
70 ls-1
Cycles until first Service
recommended after each backflow event
or with regular maintenance cycles
Temperature
Valve Body
≤ 200 °C
Heating and Cooling Rate
≤ 50 °C h-1
Material
Valve Body
AISI 304 (1.4301)
Plate
AISI 304 (1.4301)
Seal
Bonnet
FKM
Gate
FKM
Mounting Position
Fore line installation vertical only
plate facing chamber
Trigger Pressure
at the Gate
≥ 5 mbar
Closing Time
Plate Move Time
≤ 10 ms
Weight
3.7 kg / 8.16 lbs