Reliable High-Speed Protection
The main requirement of a modern shut-off valve is its reliable and fast acting emergency isolation on any backflow event. The 25.7 is designed to provide a sensitive, high-speed isolation function that reliably prevents the risk of backflow into a process chamber or pipe system.
The 25.7 HV Quick Shut-Off Valve is flow controlled. The direct operating design without any subsystem (sensor and actuator) provides high-speed isolation with low complexity and low failure risk. With less than 10 milliseconds from the initial backflow impulse to full isolation the 25.7 leads its class.
As a safety solution, a shut-off valve should ideally add no conductance barrier to the system. The 25.7's special flow-optimized design sets the standard in this regard, delivering a perfect balance between high conductance and fast isolation.
When used in processes with by-products in the gas stream, e.g. foreline applications, any accumulation of contamination on a quick shut-off valve reduces conductance and can negatively influence its isolation capabilities. This process related challenge is adressed by a special surface coating which minimizes accumulation for most by-products significantly. An additional heating option is available to avoid process gas condensation at the valve surface.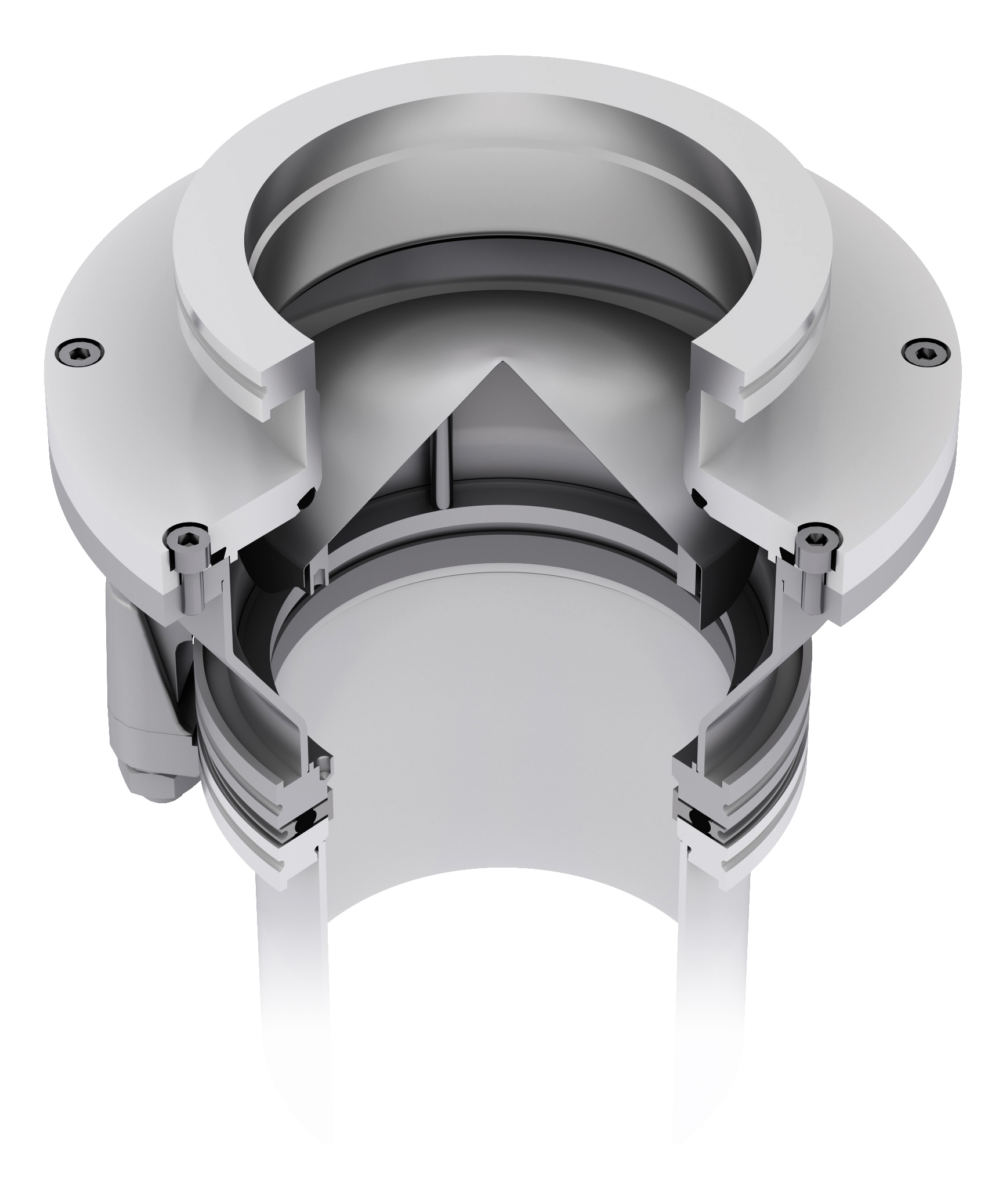 ---
emergency closure in case of backflow
The 25.7 HV Quick Shut-Off Valve is available in sizes from DN 50 - 160mm (2" - 6"). The valve body is made of stainless steel. The standard flange is ISO-K for DN63 to DN160 (2½ " - 6") and ISO-KF for DN50 (2").
For applications with very aggressive process gases, FFKM seals are available.
---
Key features of the 25.7 HV Quick Shut-Off Valve
Flow-controlled movement
Outstandingly fast reaction time
Optimized conductance
Special surface coating to minimize by-product contamination
High level of protection
Extended lifetime
Easy installation
Low cost of ownership
Technical data
Sizes
DN 100 (4"), DN 160 (6")
Body Material
Stainless Steel
Standard Flanges
ISO-K
Leak Rate
Valve Body
Valve Seat
< 1 × 10-9 mbar ls-1
< 1 × 10-6 mbar ls-1
Pressure Range
Vacuum to 1.2 bar (abs)
Differential Pressure
On the Gate
≤ 1 bar
Conductance (laminar flow)
DN 100
DN 160

6000 ls-1
20000 ls-1

Cycles until first Service
recommended after each backflow event
or with regular maintenance cycles
Temperature
Valve Body
≤ 200 °C
Heating and Cooling Rate
≤ 50 °C h-1
Material
Valve Body
Gate
AISI 304 (1.4301)
AISI 304 (1.4301)
Seal
Bonnet
Gate
FKM
FKM
Mounting Position
Fore line installation vertical only
gate facing chamber
Trigger Pressure
ΔP at the Gate
≥ 5 mbar
Closing Time
Gate Move Time
DN 100
DN 160

≤ 10 ms
≤ 15 ms
Weight

DN 100
DN 160

3.7 kg / 8.16 lbs
6.3 kg / 13.9 lbs
Specify standard product
Get to the product details to specify your requirements to get a quote or to get a specific CAD data download.