Outstandingly High Conductance Spectrum
The 65.5 HV Pendulum Control Valve provides an outstandingly high, controllable conductance spectrum. A key feature is also its exceptionally low particle count and low particle activation level due to its smooth open and close movement.
The valve was specifically designed for harsh processes such as corrosive etching and cleaning applications in semiconductor production processes where a highly controllable conductance spectrum is required with low initial controllable conductance.
The 65.5 is provided in DN 250mm (10") and controls down to minimum conductance of only 2 l s-1. Increases in conductance can be controlled to a very fine degree due to the data processing capabilities of the 32-bit actuator controller. It also provides faster actuation, as sensor and control commands are processed faster than an equivalent 16-bit controller. Various standard port connectors on the controller provide easy access via PC or a connection to a process control unit.
The pendulum gate mechanism has been designed to very robust to ensure that it resists any process by-products. To reduce seal wear and avoid particle generation as well as particle activation, the open and close movement is divided. The first degree of conductance is achieved by a vertical movement away from the gate seat and later increases in conductance is achieved by moving the pendulum gate in a horizontal movement. Due to the fine controllability of the gate movement the preset movement sequence can be adjusted to process requirements very pecise. To secure leaktight closing the gate is pressed to the gate seat with a special, patented pressure bar. This ensures an even sealing pressure in all areas of the gate.
With a compact design and direct mounting option as well as a variety of other design options, the 65.5 series is easy to integrate into various vacuum processes.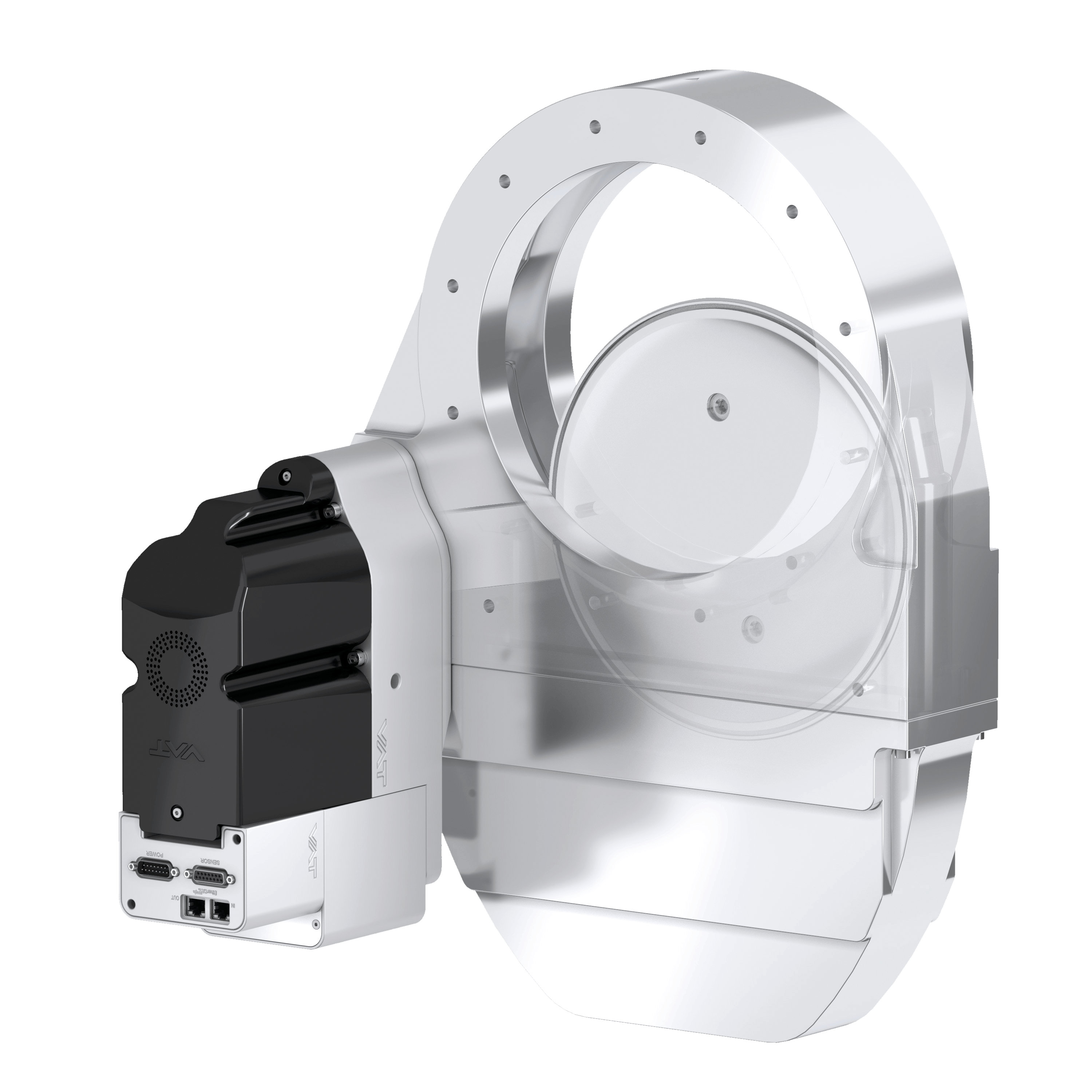 ---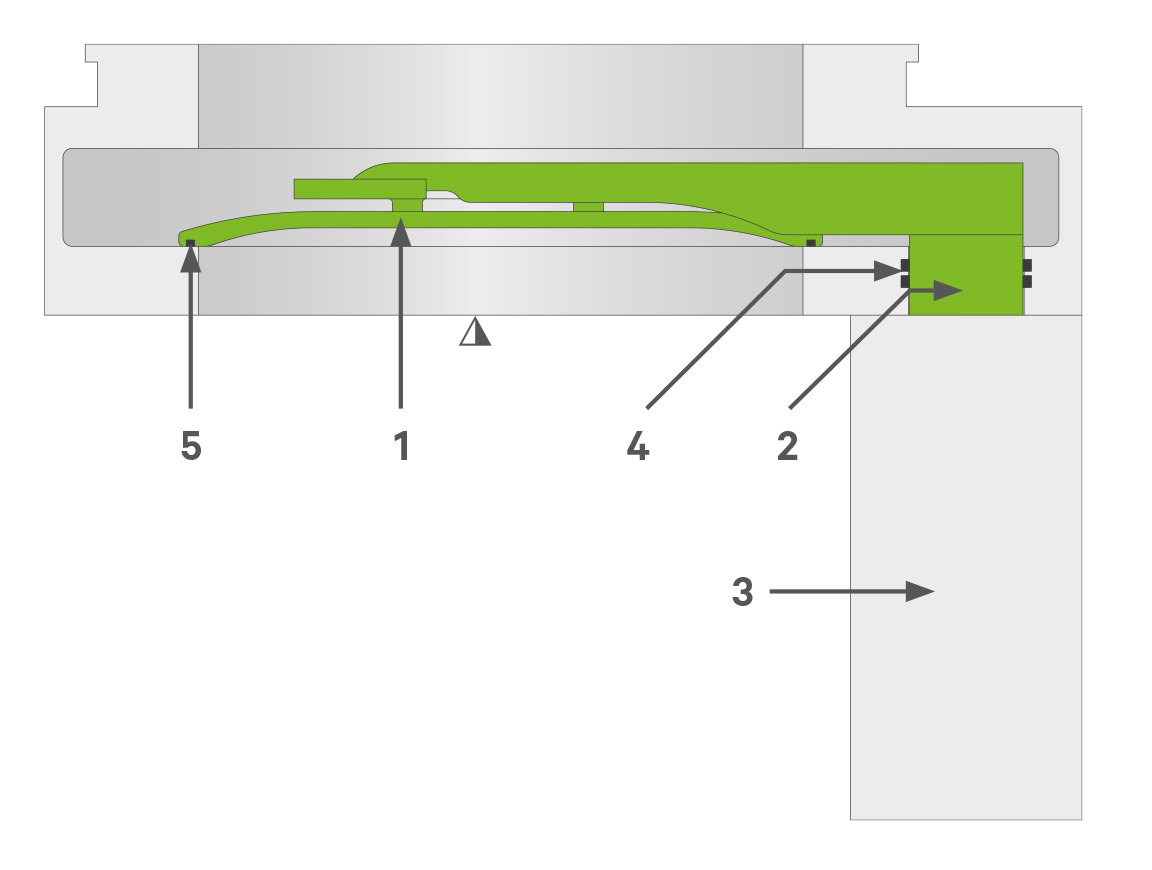 The 65.5 HV Pendulum Control Valve is available in blank or hard anodized aluminum with standard flange connectors in ISO-F and JIS. Customer-specific flanges can be integrated as well as a heater for valve operating temperatures of up to 120°C.
1. Gate
2. Actuator shaft
3. Two-axis actuator
4. Actuator feedthrough seal
5. Gate seal
---
Key features of the 65.5 HV Pendulum Control Valve
Features:
Reliable isolation in harsh process environments
Low shock operation, low particle activation
Process inert – very low residual out gassing (RGA)
Fast, adjustable operation
On-board pressure controller
Just one electrical power source required with optional sensor power supply
Benefits:
Exceptional pressure control performance
Fast, virtually particle-free operation
Adjustable to process requirements
Technical data
Sizes
DN 250 (10")
Actuator
Integrated pressure controller with servo drive
Body Material
Aluminum blank or hard anodized
Feedthrough
Rotary Feedthrough
Standard Flanges
ISO-F, JIS
Leak Rate Valve Body
Blank aluminium
Hard anodized aluminium
< 1 × 10-9 mbar ls-1
< 1 × 10-5 mbar ls-1
Leak Rate Valve Seat
Blank aluminium
Hard anodized aluminium
< 1 × 10-9 mbar ls-1
< 1 × 10-4 mbar ls-1
Pressure Range
Blank aluminium
Hard anodized aluminium
1 × 10-8 mbar to 1.2 bar (abs)
1 × 10-6 mbar to 1.2 bar (abs)
Cycles until first Service
Pressure Control
Closing / Opening
2 Million
50 000
Temperature
Valve Body
≤ 120 °C
Controller
max. 50 °C (≤ 35 °C recommended)
Material
Valve Body, Plate
EN AW-6061 (3.2311) T651
Other Parts
AISI 316L (1.4404, 1.4435)
Connection screw at plate
SST A4-80, Ni-PTFE, coated
Seal
Bonnet, Plate Body Feedthrough
FKM (Viton®)
Mounting Position
Any