For Especially Sensitive Production Processes
The main requirement of a valve with soft-pump function is to avoid turbulence during valve opening as this could negatively affect the process, e.g. through particle activation. In addition, rapid pressure changes as a result of high differential pressure during valve opening could cause sudden condensation effects, which could also adversely affect process parameters. The 29.1 HV Inline Valve with Soft-Pump Function avoids this.
The soft-pump function of the 29.1 is provided by an adjustable orifice in the closing plate. The adjustment wheel in the valve cover allows fine tuning of the soft pump effect. This ensures optimum calibration to the desired process parameters.
To enable simple and precise adjustment as well as easy resetting, the wheel is provided with 11 position markings. These facilitate the reproducibility of a setting as well as copying the setting to other valves that are to operate with the same setting.
The series is available also as angle valve version (29.0).
Tested in thousands of demanding applications under various process conditions, the 29.1 series has proven its outstanding "soft" acting performance. A positive side effect of the soft-pump function is that any pulse sound is reduced or avoided. This results in a quieter production/operation environment.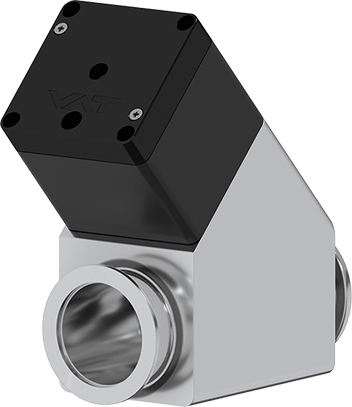 ---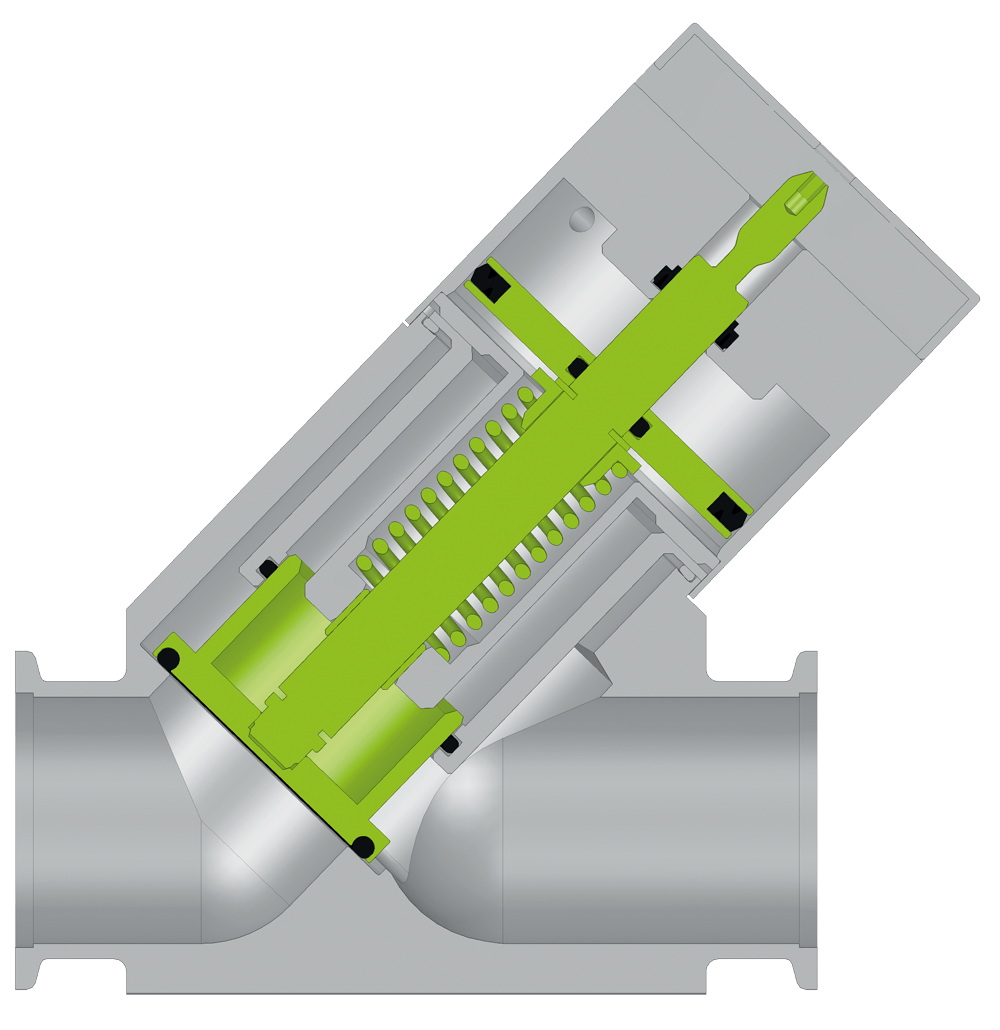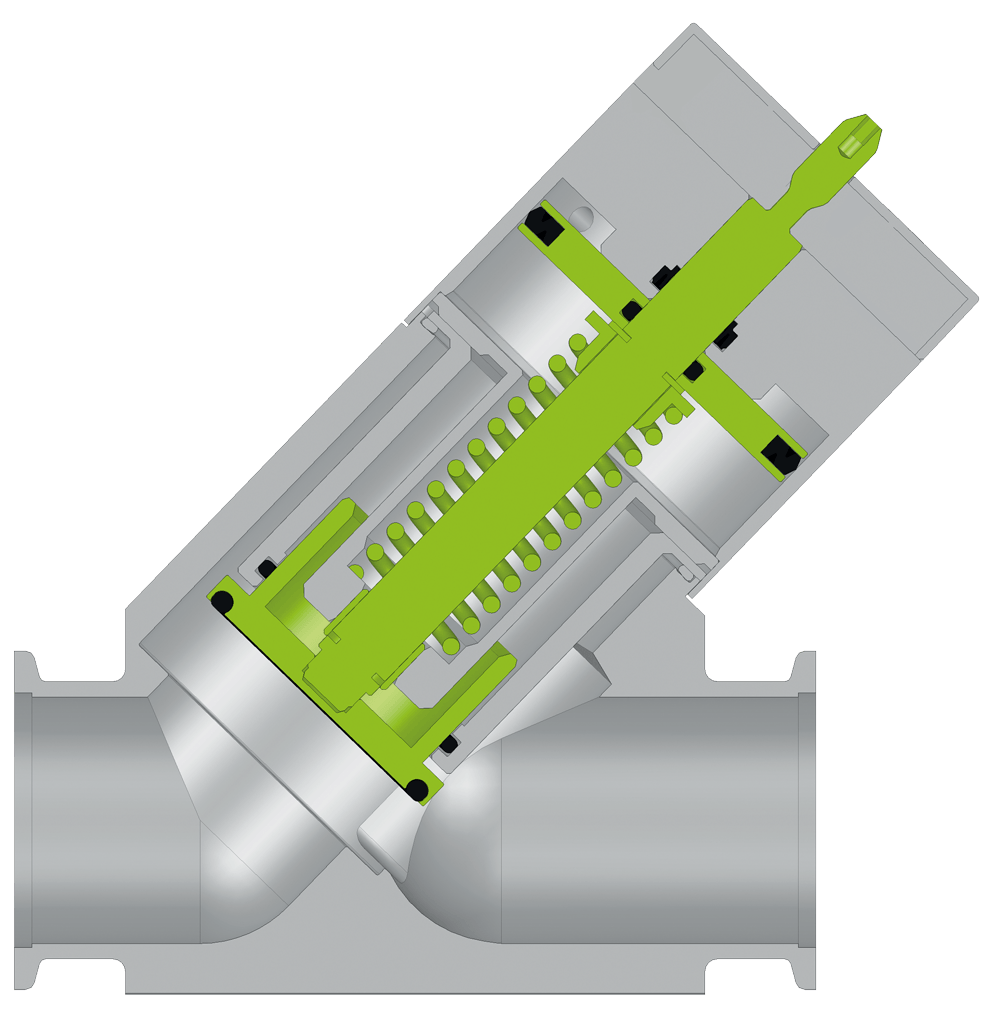 The 29.1 HV Inline Valve with Soft-Pump Function is based on a robust and reliable core design. The pneumatic actuator is single-acting, meaning that a closing spring closes the valve when pneumatic pressure is not applied. The series is available in DN 25 – 50mm (1"- 2") either in aluminum or stainless steel.
Standard options for flange connections are ISO-KF, but customized flanges can also be integrated. An optical position indicator and an electrical position output signal are standard.
---
Key features of the 29.1 HV Inline Valve with Soft-Pump Function
Features:
Soft-pump function to avoid condensation and particle activation
Easy reproduction of soft-start settings
Full functionality even at high differential pressure
Benefits:
Avoids turbulence or pressure pulses
Outstanding reliability
Long maintenance-free operating time
Quick and easy minimal maintenance
Technical data
Sizes

DN 25 (1'') DN 40 (1½''),
DN 50 (2'')

Actuator
Pneumatic
Single acting with closing spring (NC)
Body Material
Aluminum or Stainless Steel
Feedthrough
Bellows
Standard Flanges
ISO-KF
Leak Rate
Valve Body
< 1 × 10-9 mbar ls-1
Valve Seat
< 1 × 10-9 mbar ls-1
Pressure Range
1 × 10-8 mbar to 1.2 bar (abs)
Differential Pressure on the Plate
In Opening Direction
≤ 1.2 bar
In Closing Direction
≤ 1.2 bar
Differential Pressure at Opening
≤ 1 bar
Temperatur
Valve Body
≤ 150 °C
Actuator
≤ 120 °C
Solenoid Valve
≤ 80 °C
Position Indicator
≤ 80 °C
Material
Main Valve Body: Aluminum
EN AW-6060 (3.3206), EN AW-6061 (3.3211),
EN AW-6063 (3.3206), EN AW-6082 (3.2315)

Main Valve Body: Stainless Steel
AISI 304 (1.4301) , AISI 316L (1.4404)
Soft-Pump Valve Body
EN AW-6060 (3.3206), EN AW-6061 (3.3211),
EN AW-6063 (3.3206), EN AW-6082 (3.2315)
Plate
AISI 316L (1.4404, 1.4435) or AISI 304L (1.4306)
Bellows
AISI 316L (1.4404, 1.4435), AISI 316Ti (1.4571)
Seal
Bonnet, Plate
FKM (Viton®)
Mounting Position
Any
Solenoid Valve
24 VDC, 2.5 W (others on request)
Position Indicator: Contact Rating
Voltage
5 – 50 VAC/DC
Current
5 – 100 mA
Valve Position Indication
Visual (Mechanical)