Reliable and Precise Control for Standard Vacuum Processes
The 64.2 HV Control Gate Valve is designed for reliable, precise control and isolation in high cycle vacuum processes such as sputtering or etching processes in semiconductor production. It addresses the standard requirements of durability, modularity and serviceability with a special focus on high uptime and low cost of ownership.
The 64.2 is equipped with VATLOCK technology which provides reliable sealing without any friction at the plate. The plate acts as a throttling element and varies the conductance of the valve opening. The onboard pressure controller calculates the required plate position to achieve the defined set point pressure. A stepper motor performs the actuation with an encoder monitoring the plate position. This ensures a fast and accurate process pressure control. The special VATLOCK lock-in mechanism in the close position guaranties leak tight isolation combined with failsafe closing in case of power loss.
Already installed in thousands of demanding applications under various process conditions, the 64.2 has proven its outstanding reliability. With its robust design it meets all of the requirements for a high cycle vacuum control gate valve.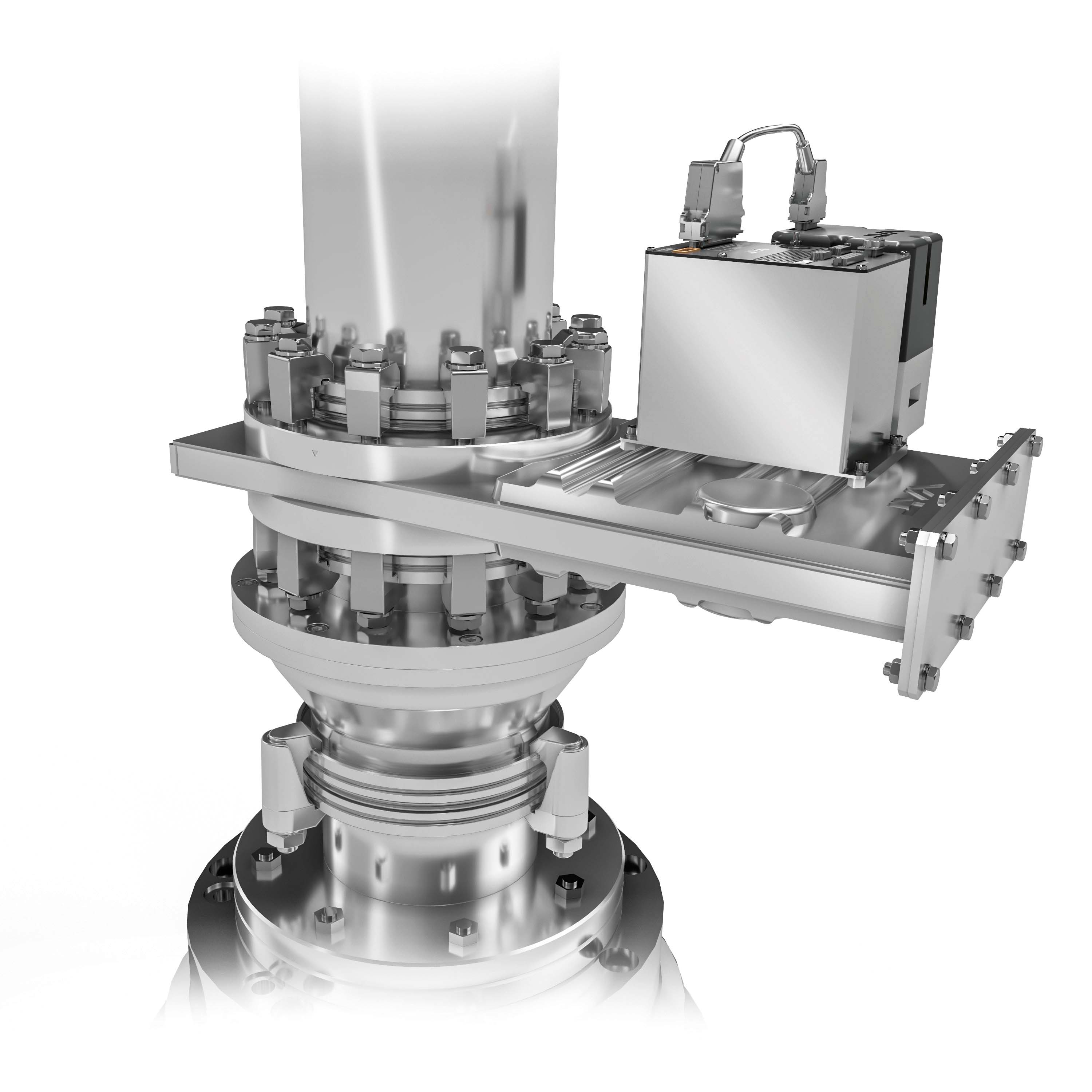 ---
To ensure optimal integration into a wide variety of vacuum applications, the 64.2 HV Control Valve is available in different design variants, including options in sealing material, flange connections, connections for roughing (by-pass), venting or gauges as well as special control algorithms (adaptive, fixed PI down-stream/soft-pump).
If the 64.2 needs to be fitted into limited mounting space, the actuator and controller can be mounted in different positions on the valve body. In addition, the controller can be installed detached from the valve actuator.
The series is available in sizes from DN 100 - 400mm (4" - 16").
---
Key features of the 64.2 HV Control Gate Valve
Features:
Reliable, proven design
VATLOCK technology
Robust stainless steel body
High cycle design
Benefits:
Reliable and precise control and isolation performance
Extended maintenance-free cycle
Low cost of ownership
Technical data
Sizes
DN 100 (4"), DN 160 (6"), DN 200 (8"), DN 250 (10"),
DN 320 (12"), DN 350 (14"), DN 400 (16")
Actuator
Integrated Pressure Controller with Stepper Motor
Body Material
Stainless Steel
Feedthrough
Rotary Feedthrough
Standard Flanges
ISO-F, CF-F, ASA-LP/ASA, JIS
Leak Rate
Valve Body, Valve Seat
< 1 × 10-9 mbar ls-1
Pressure Range
DN 100 – 200
DN 250 – 400
1 × 10-8 mbar to 2 bar (abs)
1 × 10-8 mbar to 1.2 bar (abs)
Differential Pressure on the Gate (Closed)
DN 100 – 200
DN 250 – 400
≤ 2 bar
≤ 1.2 bar
Differential Pressure at Opening
≤ 30 mbar
Cycles until first Service
Pressure Control
Closing / Opening
1 Million
200 000
Temperatur
Valve Body
Controller
≤ 150°C
max. 50°C (≤ 35 °C recommended)
Material
Valve Body, Valve Gate
AISI 304 (1.4301)
Mechanism
AISI 301 (1.4310), AISI 304 (1.4301),
AISI 420 (1.4034), AISI 420D (1.4037),
AISI 430 (1.4016)
Seal
Bonnet, Gate, Feedthrough
FKM (Viton®)
Mounting Position
DN 100 – 350
DN 400
Any
Horizontal
Valve Position Indication
Visual (Mechanical and on Controller)
Specify standard product
Get to the product details to specify your requirements to get a quote or to get a specific CAD data download.